Hooray!
It's Day 3 of Creating Christmas!
I am so glad to be a co-host with several other lovely ladies and The Girl Creative!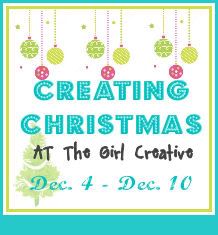 Without further ado, here is today's Christmas craftiness!
I had some leftover gems from
this project
, so I thought some coordinating ornaments would be cute. My daughter's tree is pink, pink, and more pink with silver. Her ornaments are sequined and the lights are globe-shaped. Some of the gems are teardrop shaped and her garland is silver cubes, so we are really rocking the geometric shapes here! Ha!
Simply put an ornament hook through the gem hole (resize the hook to fit) and hang it on the tree!
So easy and cute. I think this would be really precious done on a tree with only beads and pearls.